13 Contemporary Bathroom Faucet Ideas to Inspire Your Next Renovation
If you've looked through any faucet website or major home improvement store, you know that faucet options seem endless. Finding a bathroom faucet that will match your décor or personal style may seem daunting, but don't worry! Watermark Designs has been pairing individuals with the perfect fittings for decades.
Modern Bathroom Faucet Design Ideas
Here are a few of our favorite contemporary bathroom faucets to inspire you when planning a contemporary bathroom.
1. Waterfall Faucet With a Touch of Crystal
Waterfall-style faucets bring serious impact to a contemporary bathroom. With a widespread water flow, you can bring spa-like luxury to your space.
A classic waterfall faucet is made even more eye-catching with optional Swarovski crystals embedded in the handles. The touch of crystal adds character to an otherwise simple faucet but doesn't stand out so much that it detracts from the overall look. A faucet like this can add a bit of sparkle to an otherwise minimalistic bathroom.
2. Mix It Up With Polished Black and Brass
This faucet model debunks the myth that you can't mix metal finishes. The widespread faucet combines beautiful soft matte black with accents of aged brass.
The faucet has a stacked construction with the alternate finish on the handles, resulting in a contemporary look with a bit of art deco charm. It's the perfect piece for a contemporary bathroom style.
3. Minimalistic Rounded Faucet for an Urban Bathroom
A minimalist faucet, complete with an incorporated handle, is a great fit for any smaller space. The clean form features a bit of industrial appeal and works well with a modern bathroom interior. Plus, the industrial finish of natural brass ages naturally, ensuring your faucet will only grow more refined with time.
4. Go Bold With Gold
If you really want to make a statement in your bathroom, consider gold.
This striking wall-mounted faucet with a single handle instantly grabs your attention and is a great solution for spaces that need a strong accent to pull the room together. The beautiful gold finish brings some polish to the overall look, perfect for any space that needs a touch of luxury.
5. Classic Faucet With Stamped Accents and Stone Handles
Create a spa feel in your bathroom. This Zen faucet features unique stone handles and empties into a beautiful cream bowl-shaped sink, making your bathroom feel like a trip to the spa.
Small details can completely change the look of an otherwise ordinary bathroom, delighting homeowners and guests alike.
6. Unique Freestanding Faucet
Freestanding tubs are a big hit in contemporary bathrooms for good reason. This large bathtub, with room to stretch out and a stunning floor-mounted faucet, invites you to stay a while. This centerpiece stands alone and uses only a single hydroprogessive handle, adding to the clean lines and simplistic elegance of the bathroom.
The end result is a space that is easy on the eyes and soothing for the soul.
7. Aged Brass Wall Mount Faucet With an Antique Appeal
Bring vintage simplicity to your bathroom with this charming faucet and its aged brass finish.
Aged brass on any hardware is a great way to add richness and tone down an otherwise bright color. The knob for this faucet may look like wood but is actually made of concrete, so you don't have to worry about wood warping or rotting over time. It's a great way to offer additional warmth to compliment the natural tone of the brass, without the maintenance of real wood.
8. High Arc Faucet Brings Luxury and Practicality
The high arc spout in this faucet set gives the room a sleek and luxurious feel.
The stunning faucet offers a beautiful, but highly practical design since the high arc accommodates more space for washing. The accompanying handles are a perfect touch, and the satin brass finish leaves the faucet looking bright, bold and inviting. Add to any bathroom that needs a touch of sophistication.
9. Classically Attractive Faucet With Distinctive Handles
At first glance, you may think this is a standalone faucet, but take a closer look and you'll see that the two black marble discs next to the faucet are actually handles. These handles blend-in with the countertop for a seamless look and focus attention on the arched spout.
The combination delivers a spin on the traditional bathroom sink and is great for bathrooms that need an updated look.
10. A Charming Copper Faucet With a Rustic Look
This single hole deck-mounted faucet brings an industrial aesthetic to an otherwise ordinary bathroom faucet design. The antique copper finish, exposed bolts and basic rectangular handles complete the look. Clearly marked "hot" and "cold" engravings are charming and highly practical.
This style of faucet is ideal for bathrooms where the goal is a happy medium between sleek and rustic industrial.
11. Get Creative With Faucet Handle Placement
The wall mounted faucet set is matte black and features whimsical round handles to the right of the spout. The faucet set itself is fairly simple in design but fits perfectly with a contemporary aesthetic. The product works great for an outside-the-box bathroom where traditional rules don't apply.
12. Add More Texture With Crystal Inlays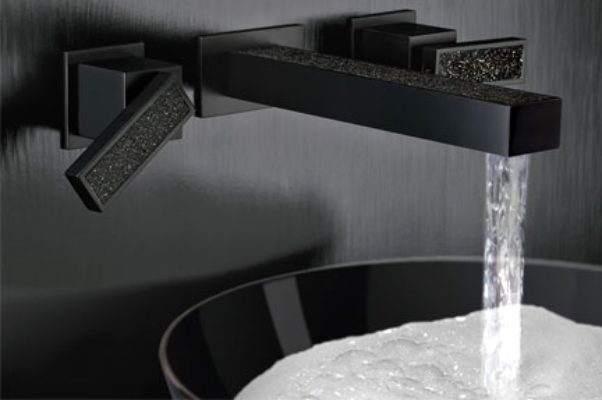 The Jem faucet is aptly named thanks to the model's beautiful crystal inlays. This particular faucet has a matte black finish with black hematite Swarovski crystal inlaid in the top of the spout and the handle faces.
The matte black finish is an exceptionally sleek look that works well in a modern bathroom sink design, especially since this model features sharp lines and a rectangular shape. Where the contemporary style may come off as cold, the crystal touches add dimension for a bathroom that needs luxe touches.
13. Sharply Angled Faucet
High-end contemporary bathroom faucet spouts often come in uncommon shapes. This particular model is a widespread faucet with a sharply angled spout. If a high arc isn't appealing, the acutely angled spout is a perfect alternative. The combination of dark gunmetal and unique angle are the perfect finishing touch.
Impressive Results With Contemporary Design
The sheer number of possibilities when it comes to metal type, finish, trim and accent, as well as knob and handle style, allows for plenty of customization for your bathroom. Whether your taste is more avant-garde or mid-century modern, these faucets will add personality to your space and bring your design to the next level.
Find the perfect faucet for your bathroom remodel at Watermark-designs.com. And if you can't find a product you love, contact us to create a custom design.